Bosco (my failed foster who lost his leg last year
http://abrbosco.blogspot.com/
) will be featured in a book about rescued dogs (highlighting ABR). The problem is he has long ears that aren't exactly Brittanyish. We like his ears long because they give him so much personality, but he should probably look more like a Brit.
Should we have them cut short?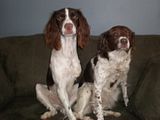 We have decided to cut them short, they grow like weeds so I'm sure they'll be back to long in no time! DH will just have to get over himself for this one!
Anyway, here is a picture of Bosco when we first got him and his ears were shorter. Is this short enough, or should we go shorter?