Hello! Well, I am getting more and more excited as Pepper gets older.
She's such a fun girl!
She seems to be at some stage when we take her out where she'll encounter other dogs.. She puffs up and acts all big and bad until I bring her on up to the dog.lol Then she shows just how big and bad she is by being a very submissive girl and having a blast playing.
There are times when she bolts out the door and getting her back has been such a pain in the rear. So I've been working on her wait more and more and there are days when she is awesome on her wait and she'll either stay at the door or just walk away from the open door and play with a toy instead of trying to bolt out. (Yay!)
I've been working on her recall as well. For the past week, I've been able to stop her mid-run with her recall and get her to come back.(Yay again!) Even if she's being distracted with something else, I've been able to get her to come running with her recall word.
We've made her recall word something that seems so fitting for her since she's a pretty distractible girl but it can be a little embarrassing to say when others are around.lol
If you've ever watched Family Guy where James Woods is going to be trapped, his attention is grabbed by candy. Candy will be on the ground and in a kind of high pitched voice, he says "Oh, piece of candy." Well, that is the recall word.lol Its funny to watch Pepper react when we say it. Many times all we have to say is "Oh"and she'll pause to look at us. Once we say "Piece of candy" she's running to us as if, Yep that's what I thought they were saying.lol
Here are two pics of her so you can see how much she's already grown. She's already almost 6mos old!:)
Then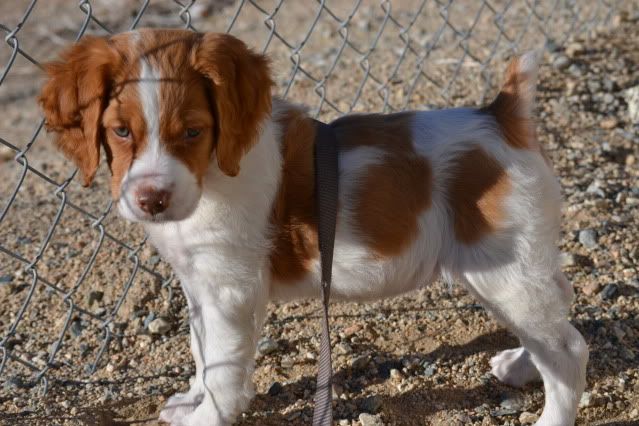 Now