Ending up three weeks of vacation and I have to say I am not ready to go back to work on Monday
, although I guess my soul has been cleansed enough I can make it for another year.
After getting back from my trip I spent a few days at the cabin and Apache is proving to have good natural ability. I couldn't be happier with him, although retrieving is a work in progress. Here's a picture of him with his first bird, the other one was an assist from Jack
He sat for the picture so no one can laugh at his bushy tail and Scruffy aka Jack didn't want to be in the picture.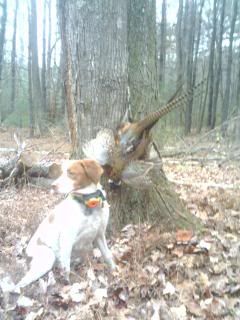 Had a great time in CO. Did a lot of hunting in the Craig area. I had my eye on some real nice bucks but the shot opportunity never presented itself, so on the last half hour of the last day I took a little guy.
If it wasn't so much more expensive to live there I would be there in a heartbeat.
Attempt at a slideshow of CO.
http://s92.photobucket.com/albums/l4/tn ... =slideshow